The Kimberly free-standing, solid fuel-burning stove combines distinctive, sleek stainless steel with traditionally inspired aesthetics. The Kimberly stove creates a high-tech heating solution for any small space. These highly efficient stoves were originally designed for boat cabins, but the designer succeeded with a stove that will keep you warm in your cabin, yurt, RV, ice shanty, or any other small space for that matter.
The stove's compact design, measuring 25 inches tall with a 10-inch diameter, allows for installation with a footprint of less than two square feet. This is the only stove certified to be installed in an alcove of only 22" wide, up to 48" deep, with a 6' ceiling and no wall protection whatsoever.
This extremely efficient cook stove boasts performance levels much greater than EPA-certified wood stoves available for residential use. The Kimberly has an industry standard five-year warranty and is made from quality materials in the U.S.A. Its burn technology offers plenty of useable heat with little to no visible emission.

The Kimberly is extremely portable, weighing only 56 pounds, and uses a 3-inch chimney system vented through the roof. This unit can be deployed in minutes and can be used for a number of different areas and reasons, including disaster relief efforts.

Another unique feature is the patent-pending secondary combustion system, which recycles exhaust gasses from the primary fire by re-burning them at temperatures of up to 1,600 F and completely incinerating all carcinogenic smoke particles before they become pollutants.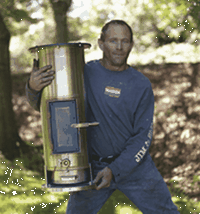 This also allows the Kimberly Stove to operate on very little fuel. For winter heating,
a 5-pound extruded sawdust log will provide enough heat to keep the average boat or
RV warm for at least 8 hours, and provide more than 1,100 F for cooking.

For spring and fall use, one pound of standard charcoal will run this stove at a lower
heat range for up to 12 hours.

Flexibility of fuel types is another unique feature of the Kimberly stove. The firebox and
all areas of high temperature and corrosive exposure are constructed completely of type 316L high-temperature stainless steel.
Performance


Stove exterior 25" tall, 10" outer diameter
Weighs 56 lbs.
Double wall stainless steel convective cylinder shape
Up to 8 hr burn time on 1 Presto log, 12 hr burn time or 1/2 lb of charcoal
Heats up to 1500 well insulated square feet
Burns smoke free in 15 minutes or less
Cook top temp up to 1260° F, while flue gas temp as low as 325° F
Estimated overall average efficiency 87%
Estimated BTU/hr output 3,000 - 40,000
Specs


Front of Stove to Combustibles 18″

Top of Stove to Ceiling 30″

Minimum flue height 60 inches

3″ Flue Pipe

10″ Stove Diameter

Reflector Panel. This should be attached to a combustible wall with 1″ spacers to give an "air space" between the reflector wall and the combustible behind it.

Combustible Wall

Side of Stove to Combustibles 6″

Flue Pipe to Combustibles 3″

Rear Wall to Combustibles 8″

These numbers are subject to change with independent lab verification, and are guidelines ONLY.
Roger Lehet, creator of the Kimberly stove, is currently working on stove add-ons such as water coil, blower, oven, and wall cabinet systems. Also in the works is a TEG (thermoelectric generator) unit, which converts heat directly into electrical energy. Stay tuned for developments!