We are seeing increased lead times with most of our suppliers. Between COVID19, import tariffs on steel and aluminum, a lack of qualified truck drivers, supply chain issues and a few other factors, many of our products are out anywhere from 4 weeks to four months. If you are looking for anything in particular, please get in line now!

And yes, because of the above All Prices Are Subject to Change Without Notice.
Please call to verify current pricing and availability.
NOTICE: The Crystal Cold gas refrigerators have not seen a price increase for several years; due to base metal prices and manufacturing costs, we will be looking at some substantial price increases by Summer. Be smart and buy your refrigerator now to beat the higher prices!

Do you already have a freezer for garden or hunting? Then why waste space in your fridge for freezer requirements? This 21 cu. ft. fridge has a full 21 cu. ft. for refrigeration.
Model CC21R specifications:

Outside dimensions
70"H x 32"W x 34"D
Refrigerator Interior
57"H x 27"W x 23.5"D
Power consumption
1700 BTU/Hr
Shelving
6 Door Shelves + 5 Interior Shelves
Color
White (only)
Shipping weight
330 Lbs.
Other features include
Front Push Button Ignitor
Thermostat Controlled
3-Year Warranty on Cooling Unit
Right Hinge Only
Model CC17R is also available! A white, 18 cu. ft. refrigerator for $2399 plus freight.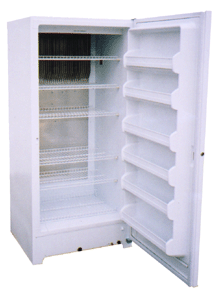 CC21R: 21 Cu. Ft. propane refrigerator from Crystal Cold
$2549 plus freight
NOTE: Appliances are not stocked locally and ship from our suppliers back east.
WHAT TRUCK FREIGHT ENTAILS: The best rate for truck freight shipping is to have you pick it up at the local freight terminal or commercial drop point. A residential delivery is usually $50 to $60 more than a business delivery, and, a lift gate (which drops the goods off at ground level), is another $80 to $100 in additional fees. Inside delivery is an additional cost on top of that.

Know someone with a truck? Can you have a dolly or hand cart on hand? If you can mobilize a couple of strong bodies, you might be able to save $50 to as much as $120 or so on your freight costs.
Call for your freight on any of our truck freight items.

NOTE ABOUT RECEIVING TRUCK FREIGHT ITEMS: Do not sign for anything until you have inspected your unit. You have spent good money on this, and it was shipped in good condition. If you don't inspect it, and open the unit at home and find 'hidden damage', there is no recourse for a truck freight claim. All claims for damage MUST be made at the time of receipt of the unit! Note any damage on the bill of lading before signing off--it's a relatively easy process to get a new unit or replacement parts if you do so. But not if you don't inspect it! Also, don't refuse an obviously damaged unit. You will still be charged for it, as we will also be by our suppliers. Freight damage is very rare (FORTUNATELY!), but proper documentation and reporting of any damage will expedite the claims process.